Steffes Welders Teach Their Trade
Damon Beaudoin, a senior at New England High School, spent an afternoon with Steffes welders learning what a typical workday is like in their trade. He was curious about what a career in welding entails so his teacher helped him set up a job shadow with Steffes. Welding interested him because of the process involved and all the different techniques and ways you can weld. 
The most interesting thing he learned during his job shadow was that welding robots can triple or even quadruple the work a person welding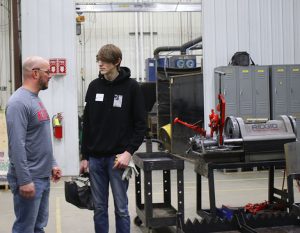 can complete.
He would tell other students interested in doing a job shadow at Steffes that "the process involved here and the different things they have available is worth the time to come check it out."
After he graduates from high school, Damon plans to work to save up money for college and potentially pursue a career in welding or a similar line of work.