EHS/CI Manager Bethany Kovash receives Patriot Award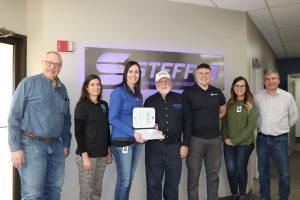 Bethany Kovash, Environmental, Health, & Safety (EHS)/Continuous Improvement (CI) manager at Steffes, was presented with the Employer Support of the Guard and Reserve's (ESGR) Patriot Award by Rich Brauhn, chair of ESGR's North Dakota Area Eight committee, Wednesday, February 1, 2023.
Kovash was nominated for the Patriot Award by Steffes EHS Specialist Lucas Kubik, an active North Dakota National Guard member. Kubik said, "Bethany gives me the tools necessary to success in my occupation, similar to what a Non-Commissioned Office in the army does for their soldiers. Any issue that arises from my military career, she is more than willing to accommodate me as much as she can on the civilian side."
During the presentation, members of the Steffes executive team provided their congratulations to Kovash and thanked Kubik for his service in the National Guard. Steffes Co-President Todd Mayer said, "We appreciate leaders like Bethany who are invested in the success of their employees and accommodate each individual. We are grateful she is a part of team Steffes."
The Patriot Award reflects the efforts made to support citizen warriors through a wide range of measures, including flexible schedules, time off before and after deployment, caring for families, and granting leaves of absence, if needed. A letter sent to Kovash from Ron Bogel, national chair of ESGR, read, "Your demonstrated spirit of cooperation and patriotism are in the highest traditions of your nation, and ESGR proudly salutes you."
---
ESGR is comprised of dedicated and trained volunteers and staff who develop and promote employer support for Guard and Reserve service by advocating relevant initiatives, recognizing outstanding support, increasing awareness of applicable laws, and resolving conflict between employers and service members. Learn more about ESGR here.
Pictured left to right: Paul Steffes, Stepheny Reger, Bethany Kovash, Rich Brauhn, Lucas Kubik, Kim Heidt, Todd Mayer