STEFFES SPOTLIGHT: Lincoln Talbott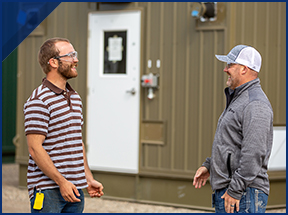 Lincoln Talbott has worked on the flares and gas management product line at Steffes as a Product Engineer for 2 years. Lincoln studied Mechanical Engineering at the University of Pennsylvania. He decided to study engineering because he liked the combination of math and building things.
Prior to his role at Steffes, Lincoln worked at an oil field services company in Dickinson. He had friends who worked at Steffes who recommended the company to him.
"I like the size of the company, that I can do a lot of different things," said Talbott. "If there are issues with processes, it's small enough that my opinion matters to make a difference."
Lincoln's favorite aspect of his role with Steffes is playing a part in bringing on new product lines in the flares and gas management division. He's excited about the new product lines that will be released this year and a new initiative to update some features on our air assist flares to further reduce over-airing. 
A typical day in his role includes a mixture of design work at a computer and doing product testing with the test lab. In his free time Lincoln enjoys spending time outdoors and gardening.