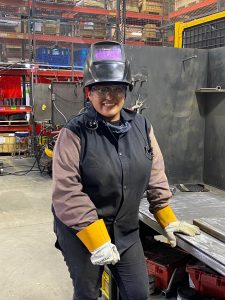 Steffes is proud to congratulate Frannika (Nika) Tsinnijinnie who recently graduated from the Steffes Weld Apprenticeship Program. Nika started as a Mechanical Assembler, transitioned to an Assembly Technician, and is now a Welder.  Nika, who is originally from northern Arizona, came to North Dakota shortly after high school because of job opportunities. She worked for another Dickinson manufacturing company before being referred by a friend to Steffes.
Nika's interest in welding started when she would see tiny imperfections and realized that she wanted to fix it herself, instead of asking someone else to do it. Her determination and eye for detail is what made her perfect for the program. Nika's Supervisor, Ron McFadden, thought the same thing and encouraged her to go through the Weld Apprenticeship Program. "She is a hard worker, and I see a lot of potential in her," Ron stated. Nika was accepted to the program and Jesse Zuroff was selected as her mentor. Jesse took Nika through the Steffes Weld Academy, starting with the basics and helped her gain confidence in her ability to weld. "I was determined to get it right, so I used my free time to weld," Nika stated. Since graduating from the program – Nika enjoys the daily challenge of her new role.
The Weld Apprenticeship Program was established in 2021 to emphasize potential internal growth opportunities for our current employees who  have an interest in welding but have little to no experience. Once selected for the program, employees are assigned a mentor who partners with the employee to review and work through the program agenda. Individuals can learn at their own pace until they are comfortable to take the test to become a Welder. Once the individual passes the weld test and graduates from the program the team member is eligible to apply for a welding role at Steffes.