Steffes Spotlight: Shane Undem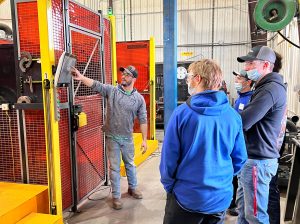 Almost six years ago, while in pursuit of a steady career for his emerging family, Shane Undem's friends encouraged him to inquire about a position at Steffes. After several years of college and enjoying a summer welding job, Shane decided a career in welding was something he could see himself doing, and he has been with Steffes ever since.
"I was looking for a stable job that wasn't dependent on the oil field, which can be pretty volatile," said Shane. "I knew a few Steffes employees outside of work, and they encouraged me to apply. They talked about it being a great place to work, where the company really works with you, and so far, it has been just that."
Shane began working for Steffes in Dickinson, ND, as a Welder I in contract manufacturing in 2016. Through on-the-job training and professional development, he has worked his way into a Welder III position in oil and gas. In his current position, you will find him manually welding pipe, overseeing the programming and operation of welding robots, and training new welders hired at Steffes.
"Day to day, I am operating the robot or manually welding, training new welders, or helping develop product flow for new products in skids weld," said Shane.
Serving as a Core Trainer for pipe welding, Shane helped establish the Academy for Welder IIIs, a certification that is needed to weld pipe at Steffes. In addition to helping streamline training, he has added more capabilities to the pipe welding robots while taking on new products and new customers.
As Steffes earns new business, Shane helps design necessary weldments and assists with test builds and creating best practices. He enjoys taking on projects outside of the standard scope of work, allowing him to exercise critical thinking and problem-solving skills.
"One of my favorite parts about working for Steffes is their commitment to innovation," said Shane. "I enjoy having new and evolving projects to work on. Building new products can be challenging, but it is also exciting."
When considering the future, Shane is looking forward to seeing Steffes robotics and automation continue developing and innovating with new opportunities. "Across the board, the work we are currently doing, our robots are just scratching the surface of their capabilities, and I am looking forward to taking on more complex work and writing new programs for each new piece that we build."
Originally from Valley City, Shane met his wife Lexie, a Dickinson native, at church camp more than 15 years ago. They were married in 2018 and share a two-year-old daughter named Carolynn. Together, they enjoy spending time outdoors, traveling as a family, and watching their daughter learn and grow.